Submarine Cable Maintenance
Maintains submarine cable networks on 24 hours
base to minimize influence of cable failures focusing on the Asian & Pacific Ocean region.
Activities for Submarine Cable Maintenance
To secure communication traffic through submarine cable networks, repair ships should stand by to scramble for repairs. In order to meet customers' requirement, the KCS maintenance ships, skillful crews and engineers are always stand by and they will do the repair work on 24-hours basis.
When KCS receives a cable repair request, loading of necessary spare plants to the cable ship is started within 24 hours, and the cable ship departs to the cable failure site as soon as it is completed. We also repair, depending on the situation, the cable failure in the shallower area than 20 meters or in the shore-end area by chartered barges from our partner companies, or by divers' operations.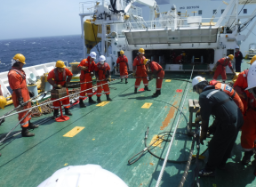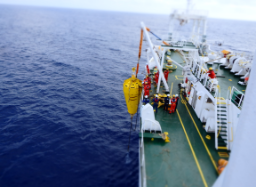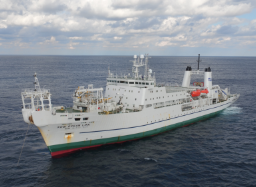 Maintenance Capabilities
Each of the cable ships, the KDDI OCEAN LINK and the KDDI CABLE INFINITY, has a capability to operate continuously during 50 days for the cable repairs. In addition, the underwater robots, MARCAS-IV on the KDDI OCEAN LINK and MARCAS-V on the KDDI CABLE INFINITY can work at 2,500 meters in depth for the cable repairs. We have carried out one of the most difficult cable repair works in this business world successfully, including the cable repair in the congested area of submarine cables or the cable repair at 7,000 meters in depth.

In recent years, we receive business inquiries not only about submarine communication cable maintenance, but also about submarine power cable protection works, and our wide range of maintenance capabilities are getting high evaluation from both customers and relating people to this field
Maintenance Area
The current cable maintenance area by the KDDI OCEAN LINK, she is now engaged in the Yokohama Zone maintenance, ranges from longitude 167 degrees west to around Japan including Guam to Taiwan.

On the other hand, the maintenance area by the KDDI CABLE INFINITY is normally from Hokkaido to Okinawa, since the ship is engaged in the domestic JIH cable maintenance. However, she has achieved the cable repair around the Taiwan and Korea area according to the customer's request.
Submarine Cable Maintenance Milestones
As shown below, Kokusai Cable Ship Co., Ltd(KCS) has engaged in many cable repairs mainly in Yokohama Zone, and is contributing to prompt traffic recovery of submarine cable systems which are significant infrastructure of Japan and the World. Particularly, the cable failures due to the ocean earthquake near Kaohsiung, Taiwan, in 2006, which caused 20 failures on 9 submarine cables almost at the same time and influenced seriously to the international communication, are fresh in our memory. In the occurrence, KCS dispatched the KDDI OCEAN LINK(KOL) as the Yokohama Zone maintenance ship, and also the KDDI PACIFIC LINK as an emergency measure, and contributed to the recovery of communication networks through the speedy repairs.